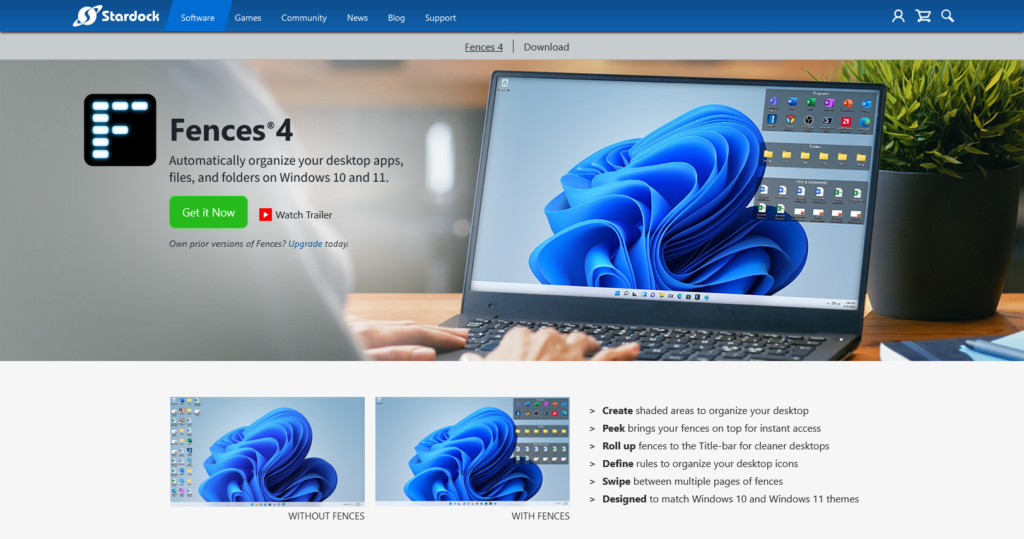 With Fences 4, the efficient and practical desktop icon sorting and beautifying tool, no matter how many desktop icons there are, it will not be messy.
If your desktop icons are messy, then you must try Fences, the classic desktop icon organizer. It quickly sorts and organizes icons on your desktop, classifies different icons into "storage boxes" (fences), and you can move and stretch the size of this fence at will. With it, your Windows desktop can be incredibly neat and clean.

Fences 4 is amazing and automatically organizes your desktop to keep it in order at all times! In addition to sorting icons, it also provides functions such as double-clicking on the desktop to hide/show icons; when the icons are sorted, your computer will be more efficient. It will hardly change your original habits, so it's too good for people who often throw icons all over their desktop! Absolutely a must-have tool for work and life.
How good is Fences? It can be said that almost all people who have used it have praised it, even the editor-in-chief of the famous magazine PC World said so: "After just five minutes of installation and testing, I knew Fences would be with me for the rest of my life!" , and it's a tool I use all the time and would love to recommend to my friends.
Indeed, if you use it, you'll find that you can't live without it anymore! It's a great software for improving efficiency or beautifying your desktop, it's so convenient and elegant to help you make your desktop neat, clean and efficient.
After installing Fences for the first time, it will "intelligently and automatically" help you categorize and organize desktop icons, eliminating the trouble of manual organization, as shown above, one click immediately makes the desktop clean and efficient! It's very simple.
Of course, you can also manually drag and drop the icons yourself, and right-click on the desktop at any time to create a new "desktop partition" or "folder shortcut type", and then you can drag and drop the icon.
Comparison of the effects of the Fences desktop icon partition:
You can create multiple icon sections (or fences) on your desktop through Fences, and the "storage section" of each icon can be adjusted in size and position, and any number of icons can be placed. The titles of these icon sections can also be renamed, and double-clicking the title bar can also shrink and expand the contents of the section.
Quickly show/hide desktop icons
What 's more, after installing Fences, double-clicking anywhere on the desktop can "quickly hide/show the entire desktop"! So you can keep your desktop clean with one click! The ability to instantly find icons when needed is also a big advantage.
When you see the original messy desktop is neatly arranged, the mood is really different! It's also easier to find icons. It is not only more efficient, but also with a nice wallpaper, or a dynamic desktop like Wallpaper Engine, the beautification effect is absolutely great, easily make your Windows desktop the envy of others. Although Fences has been around for a long time, classic, great software has always kept users and developers enthusiastic! For example, several very useful new features have been added to the new version of Fences.
Now in addition to organizing icons, you can also create a new "Folder Portal" on the desktop, which is equivalent to a folder shortcut "portal", which can "map" folders anywhere on the computer to the fence partition of the desktop.
And if you drag and drop files into this "partition", you are moving them directly to the directory that this partition points to. This way, you can easily use files from your favorite directories without having to open the file manager layer by layer.
Multi-page support, you can drag and slide left and right:
Another feature is multi-screen scrolling, if you are a heavy user, then you may find that even if the icons have been managed in groups, the desktop is still too small and crowded. Now you can drag and drop on the left and right edges of the desktop screen to switch to the next page.
As shown above, you can put the less commonly used icon group fence on the second or third page, which can not only perfectly solve the problem of too many icons, but also better distinguish between different categories of files and pictures such as work, design, and games, so that the first screen icon is less and cleaner.
In addition to the optimization for Windows 11, Fences 4 has also added a very useful new feature – Peek (Peek), which can greatly improve the efficiency of your work with files and folders. When you're working with software like Office and Photoshop, you often need some documentation. These commonly used files may already be in the Fence's desktop partition. In the past, we needed to minimize to the desktop and find the partition where the folder was located before we could open the file. And Fences 4's new Peek feature makes it even more perfect and time-saving!
Fences 4 supports Windows 11/Windows 10 perfectly (older versions support Windows 7 to Windows 10). Fences isn't going to replace or change your existing desktop habits, but it 's an easy way to improve your productivity and is an absolute must-have tool for the lazy.
As a useful desktop add-on, Fences automatically helps you organize files and icons on your desktop to make your desktop cleaner! At the same time, support custom grouping, block, arbitrary drag icon grouping position, change the size of grouping area, etc., can also make "icon partition" and theme, wallpaper integration, make your desktop more beautiful.
In short, Fences can make the whole world clean. I can't think of any reason not to try this tool for those who have a lot of icons on their desktop. Fences sells for $9.99 on the official website, which is definitely worth it.